NOVASTAR LTD, Protagonists Of The Greek Economy 2019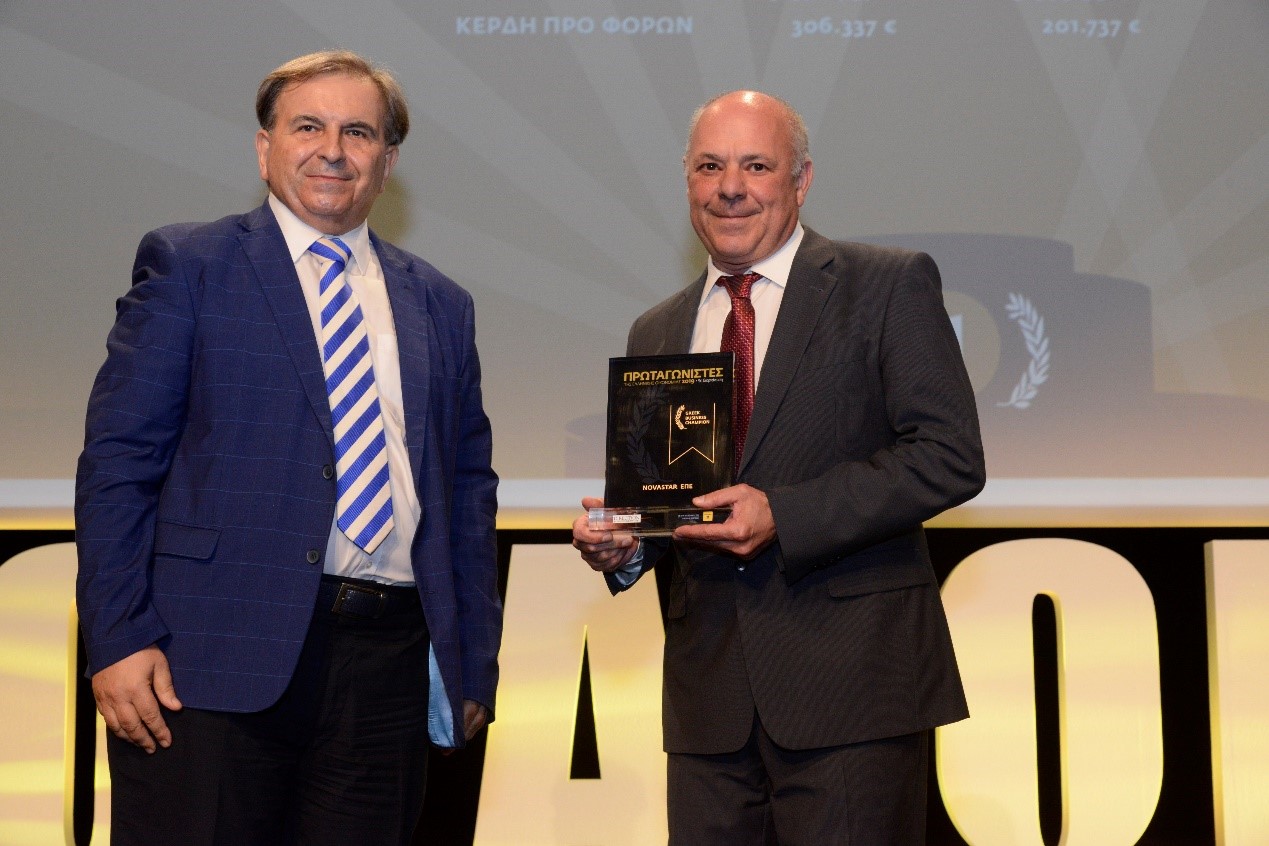 Mr Nikitas Asimakopoulos, Professor at the University of Piraeus and President of the Hellenic
Society of Systemic Studies, awarded Novastar's Commercial Director, Mr Costas Dragonas.
Novastar was awarded as "Greek Business Champion" in the framework of the "Protagonists of the Greek Economy 2019" which organized for a 5th consecutive year by the Direction Business Network under the auspices of the Ministry of Finance & Growth, the Hellenic Federation of Enterprises (SEV) as well as the support of Piraeus Bank.
The award-winning ceremony took place on Monday 10th of June 2019 at Athens Concert Hall and attended by more than 600 senior executives of the Greek corporate community and representatives of the academic world. This event was dedicated to the most successful Greek companies which managed to bounce back and grow during the crisis, supporting at the same time the Greek economy.
The awards arise from official data of published balance sheets as well as the general impression and the market's assessment about the enterprises' progress in Greece. Greek Business Champions Awards were given to businesses with an annual turnover of more than €10 million and managed to increase the turnover and earnings before taxes over 20% the same year.
Novastar Emporiki EPE, one of the fastest growing companies of Consumer Electronics in Europe increased its turnover by 39,84 %, from 13.995.352 € in 2016 to 19.570.797 € in 2017, while at the same time increased its profits by 51,85 %, 201.737 € in 2016 to 306.337 € in 2017.
Mr Kostas Dragonas, Commercial Director of Novastar, with the acceptance of the above award stated the following: « We are glad that Novastar awarded for the 2nd consecutive year as "Greek Business Champion" and we are rewarded for our efforts and hard work during these years. We have recently signed new agreements for the exclusive distribution of mobile phones and accessories in Greece. We believe that 2019 is an interesting and creative year, which will bring similar results as in 2017 but also in 2018, where our company's growth continued steadily, increasing its turnover to 29,037,227.70 € and earnings before tax at 595,284.94 €. »