​NOVASTAR LTD, Protagonists Of The Greek Economy 2018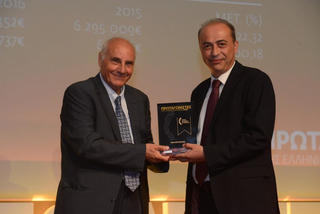 The President of the Greek Academy of Marketing, Professor Giorgos Avlonitis awarded Novastar's Chief Financial Officer, Mr. Ioannis Charalambides.
Novastar was awarded as "Greek Business Champion" in the framework of the "Protagonists of the Greek Economy 2018" which organized for a 4th consecutive year by the Direction Business Network under the auspices of the Ministry of Finance & Growth, the Hellenic Federation of Enterprises (SEV) as well as the support of Piraeus Bank.
The award-winning ceremony took place on Monday 11th of June 2018 at Athens Concert Hall and attended by more than 600 senior executives of the Greek corporate community. This event was dedicated to the most successful Greek companies which despite the crisis environment managed to not only survive but to also grow strong and remain profitable, supporting at the same time the Greek economy.
Novastar Emporiki EPE, one of the fastest growing companies of Consumer Electronics in Europe, increased its turnover by 122,32 %, from 6.295.009 € in 2015 to 13.995.352 € in 2016, while at the same time increased its profits by 200,18 %, from 67.206 € in 2015 to 201.737 € in 2016.
Mr. Ioannis Charalampidis, Chief Financial Officer of Novastar, with the acceptance of the above award stated the following: « We feel happy because our efforts have been rewarded and we want all of our partners to know that our company continued its steady upward trend in 2017 and increased its turnover to € 19,570,797.39 and its profits to 306,336, 69 €. Our results for the first quarter of 2018 (€ 8,050,937) show us the road to growth and lead us to the emerging market of Asia. »